Big Data Promises Solid Growth for Market Research Industry
Summary
Modify
The market research sector's growth finally resumed in 2015 after a four year lull and is expected continue at +1.9% until 2020 according to industry experts attending the industry's 2016 key event, the ESOMAR Congress in New Orleans.

by Hubertus Hofkirchner -- Vienna, 30 Sep 2016


Note: ESOMAR's "Predict the GMR 2020" prediction market is tracking MRX industry growth, trends in methods, big data, commoditisation, industry concentration, gender aspects, job creation, and crowdsourcing until 2020. This article summarises the consensus on future growth as of 21 September 2016, after the ESOMAR Congress 2016. The market remains open, market researchers are welcome to join and participate anytime.


Seminal trends in Big Data adoption, higher affordability through new methods, and increased automation will drive a positive industry trend for market research from 2016 to 2020 but also put traditional providers under more and more pressure.
Recent industry development
After four years of stagnation from 2010 to 2014, the market research industry has resumed growth in 2015 and reached a total global turnover of US$ 44.3 billion (+2.2% net of inflation) [1].
Growth from data and new methods
Over the three days of the market research industry's signature event of the year, the ESOMAR Congress, from 18th to 21st September in New Orleans, the attendees' aggregate growth prediction rose steadily to a final level of +1.9% net of inflation. "Growth in the traditional sector will be slower than in the 'newer' methodologies," says ESOMAR Director General Finn Raben.
"The big companies will need to adapt, smaller more agile companies may benefit," agrees Kevin Cowan, a researcher at BBC World Service. Established firms are rushing to select and embrace at least some of the new methods and information sources, or be left behind. For the next few years, their capability in information technology will be a key strategic weapon to achieve higher automation and maintain future competitiveness.
New technologies
Consistent with the message of several 2016 Congress sessions, 'data' is a key reason for the general optimism [2]. Big data, behavioural data, app data, and digitisation promise ample opportunities for innovation and productivity growth. "With the emergence of Big Data I can foresee the growth of volume of research, but also pressures of efficiency," summarises Steve Cooper, Brand and Business Insight Manager, Brown-Forman Europe. "Big companies are realizing they are sitting on loads of unstructured and apparently unrelated data they use very little," adds Massimo Cealti, former Global VP of Insights at Symrise, the global fragrances & flavours supplier.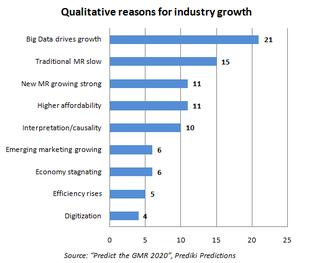 Congress attendees hold little doubt that 'traditional' market research will take the backseat in the coming years. People in the industry are getting tired of interviews and focus groups, newer methods render them increasingly obsolete. Nick Baker, Group CEO of London-based Quadrangle Research, explains: "Simply asking questions is no longer the default way to answer research questions." Alternative sources for insights are coming from outside the traditional research sector. Google, social media, wearable technology, and mobile apps are producing more and more data which can be harvested by researchers.
Greater affordability
This is good news for research buyers, as more tech means lower cost. Better affordability could also be good news for the overall industry. "The average project price may decrease but the volume will overcompensate this decrease," speculates Joaquim Bretcha Boix, International Director of Netquest, a specialised access panel provider for Latin America and the Iberian peninsula recently acquired by German research giant GfK.
More and more automated respondent recruiting sparks commoditisation fears at established research firms who criticise a lack of quality controls by the new entrants. Not everything can be automated though, says Sjoerd Koornstra, Global CMI Manager at Heineken International: "More data becomes available which needs to be interpreted in context. For this market researchers are needed."
Geographic differences
ESOMAR's annual GMR 2016 publication, released during the Congress, reports solid growth in Europe with +2.8% and North America with +3.1%, within the latter region Canada even grew a strong +7.6%. Latin America shrank -7.8% in 2015 on a US$ basis while growing +10.7% in local currency terms.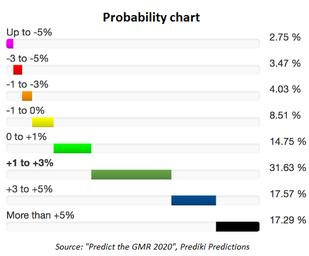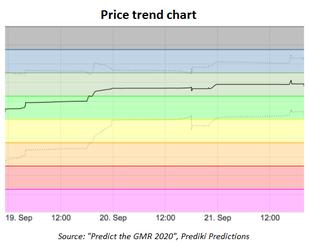 Predictions for global growth for the next few years vary by region. Europe's better economic growth is fragile with uncertainty from Brexit and remaining fallout from the financial crisis in the Southern European markets, such as Greece and Portugal. "In the US market, the recovery from the recession has been extremely slow with limited job growth and a slow recovery," says Michael Alioto, VP Global Methodologies at Gongos, a decision intelligence company from Michigan. Asia's growth is expected to continue, with China and India offering the best growth potential although they may leapfrog the traditional providers in favour of newer methodologies.
Technical analysis of growth prediction
The bar chart below shows the distribution of the Congress attendees' quantified expectations on the event's prediction market, the line chart (below right) aggregates the median and interquartile forecasts over time.
From a technical point of view, the interquartile range (dotted lines) are still somewhat broad, largely caused by two contrarian traders. One gives likelihood to an unspecified 'black swan' event for the market research industry, the other expects a more inclusive definition by ESOMAR of what 'traditional' market research is within the prediction horizon of four years. The forecasts will solidify further while trading continues in the week after Congress. The cumulative probability of industry growth totals 81.2% so the positive outlook has already good technical support.
Sentiment analysis of traders' market talk underpins attendees' fundamental bullishness in the quantitative forecasts: in the conversation 'Grow' (79%) dominates 'Flat' (9%) and 'Shrink' (12%) by a factor of four. Prediki counts mentions, i.e. directional comments as well as Agree and Disagree ratings for rated sentiment analysis.
ESOMAR Congress Predictions Part #2 of 8: "Big Data" will follow shortly.
Note: Market researchers are welcome to join the prediction market the prediction market and add to the consensus.
---
Source: ESOMAR Global Market Research Report, 2016
Prediki scores qualitative messages by number of mentions plus net agree/disagree ratings.
---