by Hubertus Hofkirchner -- Vienna, 19 Aug 2016


When studying the call for the ESOMAR Congress 2016 in New Orleans, we noticed excitedly that they were particularly interested in alternative formats and in predictions of how the research industry will evolve.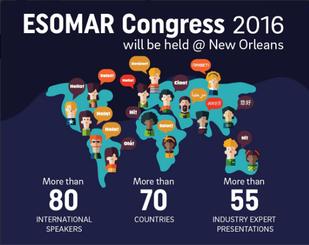 The word "prediction" always gets our full attention at Prediki, so we proposed to erect an Electronic Prediction Wall for the three days of the Congress, a space where attending researchers, clients, and suppliers can trade predictions on future developments like regional industry growth, sector trends, expected adoption and decline of methods, and project types. The theme would be "Predict the GMR of 2020".
We were absolutely delighted that the Program Committee liked the idea and gave the green light.
How will it work?
A prediction market will aggregate every entry instantly (well, in 40 milliseconds) and project the new real-time forecasts on the Prediction Wall for all to see. The Congress participants themselves, their high diversity and deep knowledge of the market research industry, will ensure that the best possible strategic vision of the future emerges. In only three days!
So, imagine a researcher attending the event to learn about all things new in the industry, have great conversations with peers, and go home with a coherent vision of the future. The Prediction Wall will contribute to all of these goals. After each session, attendees' new insights will move consensus forecasts and produce a new point of reference. Bullishness and bearishness regarding any trend will open a great starting point for further conversations and debate.
What will be the outcome?
A presentation of the "ESOMAR Congress Concensus Predictions" on Day 3 will summarise the numeric forecasts and the verbal reasons extracted from the online market talk. Every participating attendee will go away with a better idea about what the future will bring. And of course, there will be be a prize for the best forecaster.
One more thing: the prediction market will remain online after the Congress. Participating attendees will be able to compare their original predictions with the latest consensus forecast as the future of market research unfolds, long since departing from New Orleans.
The Austrian economist and philosopher F.A. Hayek famously recognised the market price mechanism for its power to aggregate knowledge as "one of the greatest triumphs of the human mind." We would be delighted if you want to put this engine to work for yourself at the Congress.
Have your say!
We need your feedback! Which particular aspect about the Future of Market Research will be of most interest for researchers? Ideas so far include the future ratio of online qualitative vs. quantitative, future demand for skills and educational background, future prices of the GMR standard project types, internationalisation of contracting, regional or sector growth, ...
---
More by the author:
---
Back to the Management by Predictions Blog
Follow this blog for more stories, new case studies and how-to's.