Transactions
**close
| **Zeitpunkt | **Antwort | **Dafür | **Dagegen | **Mögl. Gewinn | **Kurs | **Aktion | **User | **IP (maskiert) |
| --- | --- | --- | --- | --- | --- | --- | --- | --- |
| {{ order.timestamp_localized|date:'short' }} | {{ order.answer.label }} | {{ order.long|number:2 }} | {{ order.short|number:2 }} | {{ order.win|number:2 }} | {{ order.price|number:2 }} | {{ order.action }} | {{ order.member.name }} | {{ order.maskedip }} |
This is how the question will be judged in the end, when the final outcome becomes known.

Here you can see the date or the end of the time period to which the question relates.

This is when the future result is expected to become known.

Any participant can improve or clarify the rule, but without changing its substance.

When the final result is in, any participant can trigger settlement here.

After reading the judgement rule, please click here.
Close
§ Judgement rule
How will the final result of the question be determined?
The officially-announced result of this fight will be binding for the judgment of this question.
Reference date
April 12, 2014, 21:00 EDT
Answer options
Widget
Probability
●

Manny Pacquiao

54.91 %

●

Timothy Bradley

35.61 %

●

None (Draw or No Contest)

9.48 %
Please study the factual information provided by the questioner.

Every participant can improve this information with additional objective facts.

When you read to the end of the wiki, this task is complete.

Good predictions will also grow your expert rank in the question's topic.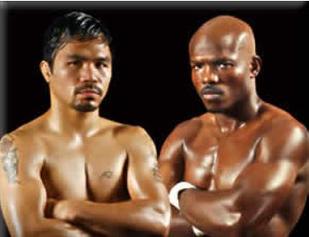 Background
'Pacquiao vs. Bradley 2' is a rematch of the 2012 boxing match between Manny "Pac Man" Pacquiao" and Timothy "Desert Storm" Bradley. 'Pacquiao vs. Bradley 2' will take place on Saturday, April 12, at 6:00 p.m. Pacific Time at the MGM Grand Garden Arena in Las Vegas, USA.
The first match between Pacquiao and Bradley ended with a controversial split decision win for Bradley, with many believing that Pacquiao - the betting favorite coming into the fight - clearly won.
With Bradley coming off a string of impressive victories to add to his unblemished record, and Pacquiao on a quest to reassert his status as a pound-for-pound all-time boxing great after a 2012 that saw his controversial loss to Bradley and a devastating KO loss to rival Juan Manuel Marquez, the stakes could not be higher.
Hint: 'Trade' your answer (from the options to the right) so that Prediki can calculate the aggregated opinion.
External links
Related questions
Offering the reason for your trade may convince other traders to follow your opinion.

Click '+' if a comment is worth reading, or '–' if not. You get a credit for every rating you make.

For each '+' the author will get +100 credits added to his trading account .

The author loses -100 credits for each '–' but will never go below zero for any one comment.

Reply to expand on somebody's point or to contradict it.

This task is completed when you have read all the messages (to the very bottom).

Now please rate, reply or even write your own comment. Best of luck!