Transactions
**close
| **Zeitpunkt | **Antwort | **Dafür | **Dagegen | **Mögl. Gewinn | **Kurs | **Aktion | **User | **IP (maskiert) |
| --- | --- | --- | --- | --- | --- | --- | --- | --- |
| {{ order.timestamp_localized|date:'short' }} | {{ order.answer.label }} | {{ order.long|number:2 }} | {{ order.short|number:2 }} | {{ order.win|number:2 }} | {{ order.price|number:2 }} | {{ order.action }} | {{ order.member.name }} | {{ order.maskedip }} |
Close
§ Judgement rule
How will the final result of the question be determined?
The officially-announced result of this fight will be binding for the judgment of this question.
Reference date April 12, 2014, 21:00 EDT
Answer options
Widget
Probability
●

Manny Pacquiao

100.00 %

●

Timothy Bradley

0.00 %

●

None (Draw or No Contest)

0.00 %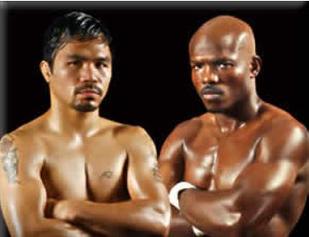 Background
'Pacquiao vs. Bradley 2' is a rematch of the 2012 boxing match between Manny "Pac Man" Pacquiao" and Timothy "Desert Storm" Bradley. 'Pacquiao vs. Bradley 2' will take place on Saturday, April 12, at 6:00 p.m. Pacific Time at the MGM Grand Garden Arena in Las Vegas, USA.
The first match between Pacquiao and Bradley ended with a controversial split decision win for Bradley, with many believing that Pacquiao - the betting favorite coming into the fight - clearly won.
With Bradley coming off a string of impressive victories to add to his unblemished record, and Pacquiao on a quest to reassert his status as a pound-for-pound all-time boxing great after a 2012 that saw his controversial loss to Bradley and a devastating KO loss to rival Juan Manuel Marquez, the stakes could not be higher.
Hint: 'Trade' your answer (from the options to the right) so that Prediki can calculate the aggregated opinion.
External links
Related questions