This is how the question will be judged in the end, when the final outcome becomes known.

This is the precise date or end of the period to which the question refers.

After reading the judgement rule, please click here.
Close
§ Judgement rule
How will the final result of the question be determined?
The question will be judged by bitcoin's percentage of total crypto market capitalisation according to CoinMarketCap at year-end 2021 UTC. For reference, dominance was 70.5% at year-end 2020. https://coinmarketcap.com/charts/
Reference date:
Dec. 31, 2021, 24:00 UTC
●

0 - 50%

21.48 %

●

50 - 60%

20.52 %

●

60 - 65%

15.32 %

●

65 - 70%

16.32 %

●

70 - 75%

13.90 %

●

75 - 80%

2.63 %

●

80 - 90%

8.20 %

●

90 - 100%

1.59 %
Study the background information carefully.

Read the background information carefully, before proceeding.
In the bull market at the end of 2020, Bitcoin has gained share of total crypto market capitalisation, closing at 70.5%. For bitcoin maximalists or for those who invest in bitcoin for diversification, this is seen as a good sign. After all, money does have a network effect, its utility grows with its general acceptance, so the winner will take it all.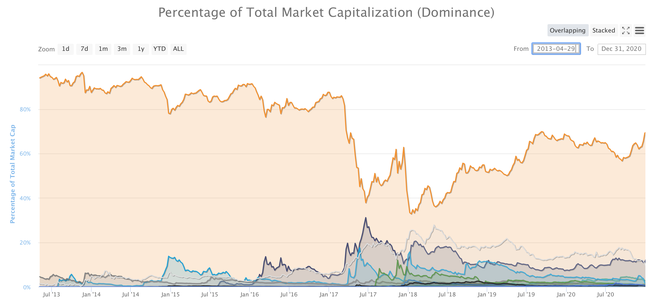 However, it is still very early in the age of cryptocurrencies. Bitcoin is still neither unit of accont nor a value store really. New cryptocoins may be devised with better fundamental properties which could push bitcooin dominance back to the 50% or even 40% levels of mid 2017 when Ethereums prospects seemed bright. Or below.
Sources
Offering the reason for your trade may convince other traders to follow your opinion.

Click '+' if you agree, or '–' to disagree. You get a credit for every rating you make.

For each '+' the author will get +100 credits added to his trading account .

If you rate a comment with "-", please reply and state your objection.

Now please rate, reply, or write your own comment. Best of luck!